did this week drag or is it just me?
glad to be linking up with Stephany as her co-host in crime on this lovely day. so go on over and link up your polyvore creations!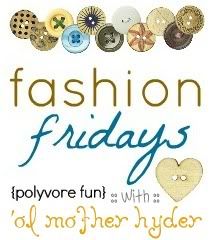 i am a little lot extreme with fashion - not as in wearing a meat dress extreme.
i could wear a preppy outfit one day, and a totally edgy rocked out get up the next extreme.
i like lots of different looks, what can i say?
so here are two polar opposites i recently created. whether you're on the nautical, preppier side or the boho, hippy, edgy side - enjoy...
feather
by
lyuro57
featuring
cotton short shorts
i'd totally wear either one of these on any given day. depends on my mood. and am particularly obsessed with outfit #1's bag and outfit #2's sandals.
hope everyone is having a beautiful friday - now get your fashion POSTS UP and LINK UP!