13 things you would want with you on a deserted island.
That's this weeks link up topic - how fun!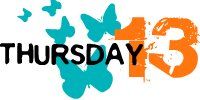 my list is assuming that we will eat, have fire, water & endless electricity. that's to be expected when living on a deserted island, right?
1. my immediate family/family-in-law
2. my ipod or anything else that can play music
3. frank's red hot
4. my kindle
5. deck of cards
6. my pillows
7. max's bubby - we can't survive a day without it
8. chapstick
9. deodorant
10. camera
11. sunglasses
12. a pencil, pen or marker, as long as i can write!
13. dark chocolate
I kinda want to go to my deserted island now - Just the essentials, no drama, no distractions...